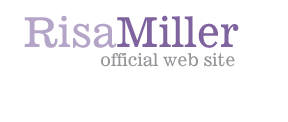 Read an Excerpt of


Welcome To Heavenly Heights

Read an Excerpt of
My Before and After Life

Welcome to Heavenly Heights


St. Martin's Griffin (January 16, 2003)
240 pp.


A first novel written by PEN Discovery Award Winner
Risa Miller, Welcome to Heavenly Heights describes
a group of American Jews who have left the United
States, not just to move to Israel, but to live in a
settlement on the West Bank. Miller conjures a culture
and a movement--part religion, part pipe dream-
-viewed through the pinhole of one ragged apartment
building's door: its families, their dinners, their weddings,
their marriages, their sorrows. While bombs can
be heard at the edges of these pages, it is inside the
settlement, Heavenly Heights where Miller's delicate,
understated prose limns the lives of these tender souls.
Praise for Welcome to Heavenly Heights
"This novel pulses with acute observation-and with implications of a broader tragedy. In honoring the particularities of human life in Heavenly Heights, this fine writer honors life everywhere."-James Carroll
"Graceful and engaging . . . Miller explores the many meanings of home, rootedness, and community."-The Jewish Week
"Miller is able to conjure a culture and a movement-part religion, part pipe dream."-Elinor Lipman
"A necessary and important book. Miller has chosen to present the complex human reality behind the screaming headlines. We are grateful she did."-Naomi Regan
Reviews
New York Times - Settling By Neil Gordon
Published: Sunday, February 2, 2003
''ONE thousand B.C.E., King David, sweet singer of Israel, bought the heart of Jerusalem from Aravnah the Jebusite. . . . Three thousand years later his descendants were still protecting the investment.''
Among the descendants of King David introduced in this passage from the prologue of ''Heavenly Heights,'' Risa Miller's sly, understated and ultimately heartbreaking first novel,... [read more]
Boston Globe - New World's Rhythms By Judith Bolton-Fasman
Published: May 25, 2003 [Page: D9 Section: Books]
So much of what happens in the world escapes newspaper reports. Fiction can give us the story beyond those events, and memoir conveys them in a personal, deeper context. It becomes clear, however, that even these descriptions are impossibly neat classifications when a genre-defying novel like "Welcome to Heavenly Heights" comes along. [read more]
The Washington Post Book World Reviewed by Judy Doenges
Sunday, January 12, 2003; Page BW10
Risa Miller's first novel, Welcome to Heavenly Heights is a story of community. In Israel's West Bank, several orthodox Jewish families from America have settled to make aliyah, a return to the land. Among them are Tova and her husband, Mike, who leave their upper-middle-class life in Baltimore for an apartment in Heavenly Heights, hard by the Jordanian border. Tova and Mike and their three children immerse themselves in the lives of the complex's other residents and attempt to adjust to ever-circling army helicopters and bomb searches. [read more]
Boston Herald - Boston, Mass. Jessica Ullian
Feb 2, 2003
Lately, the voices that come from Israel speak only of politics and violence, tumultuous elections and attacks on settlements. Risa Miller, a Brookline resident and first-time novelist, provides a welcome shift in focusing her book, "Welcome to Heavenly Heights." [read more]
From Booklist
"If the entire planet was a face, the settlements were the brow and Jerusalem was the eye," reflects Tova, a resident of the West Bank apartment complex that is the setting of Risa Miller's remarkable first novel. With such observations, Miller's American Jewish characters remind themselves why they have come to Israel, and she relates their stories with delicacy and bittersweet humor. [read more]
From Publishers Weekly
For Orthodox Jews, Israel is not merely a country, but "the Land of Israel, the biblical promised portion"-in other words, "home." The families in Miller's first novel are mainly immigrants from the U.S. who now live in a small settlement in an embattled area outside Jerusalem, motivated by the conviction that it's their responsibility to reclaim the land of the biblical patriarchs.[read more]