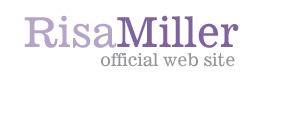 Read an Excerpt of


Welcome to Heavenly Heights

Read an Excerpt of
My Before and After Life

Purchase Books

Risa Miller grew up in Stevenson, Maryland, a suburb of Baltimore. She's an honors graduate of Goucher College, and she received an MFA in creative writing from Emerson College where she enrolled as a 'returning' student when the youngest of her five children went to preschool. Since 1975--except for several years in Jerusalem--Risa and her husband, a Boston attorney and law professor, have lived in Brookline, Massachusetts.




Risa's first novel, Welcome to Heavenly Heights (St. Martin's Press), began as her MFA thesis and went on to win Risa the PEN New England Discovery Award. Welcome to Heavenly Heights was published to rave reviews in 2003 and the book became a New York Times New and Noteworthy Paperback in 2004. She was also the featured subject of a New York Times Book Review article (January, 2005) about the state of contemporary Jewish fiction. My Before and After Life (St. Martin's Press) is her second novel.


Risa is also the author of numerous essays and reviews which can be accessed in, among other places, Post Road magazine, the Boston Jewish Film Festival magazine, and the Hadassah Brandeis Institute's 614 HBI eZINE. She has taught essay writing at Lasell College, and fiction writing at the University of Massachusetts and the Shaindy Rudoff Graduate Writing Program at Bar Ilan University. She is currently on the fiction writing faculty at Emerson College.