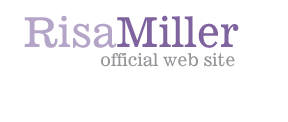 Read reviews on


Welcome To Heavenly Heights

Read an Excerpt of
My Before and After Life

My Before and After Life


St. Martin's Press (January 19, 2010)
256 pp.


A story of the sometimes prickly relationship between adult
children and their parents


In Risa Miller's new novel, the first since the highly acclaimed
Welcome to Heavenly Heights--one family member tries on a
faith that feels like a bad fit for the rest. Honey and Susan, two sisters in Boston, are shocked to learn that their elderly father has embraced Orthodox Judaism while on vacation in the Holy Land. His daughters fly to Israel to convince him to return, but when they get there they find it hard to communicate their concerns as he tries to educate them on the finer points of religious life. Honey feels abandoned and angry. But the anger turns into an emotion she can't quite identify or accept during the course of the trip. And while she is still enraged, it becomes increasingly difficult for Honey to figure out exactly why she has condemned her father's choice.
Advance praise for MY BEFORE AND AFTER LIFE
"This is a beautifully told family story--witty, intelligent, and quietly powerful...the conflicting claims of love and faith feels wonderfully close to the bone and grounded in hard-won truths." -- Elinor Lipman
"A unique and intriguing twist on the conflicts of faith and the family dynamic. A heartwarming and thought provoking novel."-- Binnie Kirshenbaum
"With wit, wisdom, and wonderful humour.explores the complicated relationships between adult children and parents, and believers and non-believers. This is a delightful and surprisingly profound novel."-- Margot Livesey
"This gorgeously written novel about connecting with the spiritual is transcendent."-- Caroline Leavitt
"Miller is extremely skilled in her exploration of religion as a personal decision, a profound experience and a source of surprise and wonder."-- Publishers Weekly
Reviews
Hadassah Magazine - HadassaMagazine.Org
Adoring fans of Risa Miller's debut novel, Welcome to Heavenly Heights (St. Martin's Press), have waited as long as Jacob between brides—seven whole years—for her second book....[read more]
Ha'aretz - Haaretz.com
The personal and the political are also inextricably intertwined, less explosively but no less dramatically, in Risa Miller's "My Before and After Life."....[read more]
The Boston Globe - Boston.com
Risa Miller, a graduate of Emerson's MFA program, has published her second novel, "My Before and After Life'' (St. Martin's). The widowed father of two grown sisters living in Brookline...[read more]
Kirkus Reviews
While on vacation in Jerusalem, an older man becomes "a born-again Jew," much to the chagrin and displeasure of his daughter. Honey Black, the novel's narrator, is not pleased when her father begins to become an observant and orthodox Jew...[read more]
Publishers Weekly
In her sophomore effort, Miller (Welcome to Heavenly Heights) focuses on an unrelentingly introspective attorney and her struggle with spirituality in the wake of her father's sudden religious awakening...[read more]
Tablet Magazine - On the Bookshelf
Secular an art form as the novel may be, its practitioners have never entirely shunned religion as a subject, and in recent decades American Jewish novelists have turned to Modern Orthodoxy and haredi Judaism...[read more]
The Brookline Tab - Wicked Local Brookline
Risa Miller says the details of her novels come to her like bits of a dream at the moment of waking — strange, fragmented and from unknown origins...[read more]
The Baltimore Jewish Times
As creatures of habit, human beings often resist changes. Changes involving lifestyles of immediate family can complicate relationships when people must deal with stressful adjustments...[read more]